Rifle Deer
Hunting in the rain forests of Washington are unlike any other hunting challenges in the World! The thick underbrush and steep terrain offer long life to the famous Blacktail Deer! Growing up in the foothills of the Cascades, Christian has learned how to predict the habits of these exclusive animals, and in doing so, has sky-rocketed his success rates on these trophy's!
There are various techniques on how to hunt Blacktail deer in Washington and these techniques are what he has mastered! Having a good set of eyes and covering ground, while moving cautiously through the woods at a slow pace and keeping the wind to your face and being in the right area are what brings success!
Growing up as a local he has learned the areas and the animal patterns and learning exactly what to look for and where the key is to finding these animals in Washington's rain forest. The Cascade Mt. Range extends from Canada to Mexico. It is famous for the Pacific Crest Trail as well as a series of volcanoes such as Mt. Saint Helens, Mt. Adams, Mt. Hood, and Mt. Rainer. This is truly one of the most rewarding and amazing hunts this world has to offer! The scenery is UNFORGETTABLE and the experience with Washington Hunting Outfitters will never be forgotten!
Washington Hunting Outfitters strives year around to know these animals and there living status. Scouting year around all over the state of Washington brings opportunity to 100% in the field. Our success rate varies from 70% to 90%. How it being field error's are out of our control. Come embark on the hunt of a lifetime!
Let us help you put that trophy Blacktail on your wall! No mistake, these are the toughest deer to hunt anywhere! These deer live in thick brush and canopy timber. Some of our hunts will be in wide-open clear cuts with spot-and-stalk, or long-range shooting. Most of these hunts are close and personal.
Washington Black Bear Hunting
In 1996 the use of hounds and bait were banded which has lead to an abundance Of bears over much of region 5 and 6. The state of Washington estimates that we have About 30% color phase black bears. The Washington black bear season runs August 1st thru November 15th with August and September being the best months. We Hunt several different gmu's (game management units) for black bear. We Choose the best areas depending up on our scouting reports the time of year and elevation where the berries are ripe and past years success. All of these hunts Are spot and stock . We get up on high advantage points and do a lot of glassing. This time of year the black bears are out grubbing and eating bear grass and Huckleberries.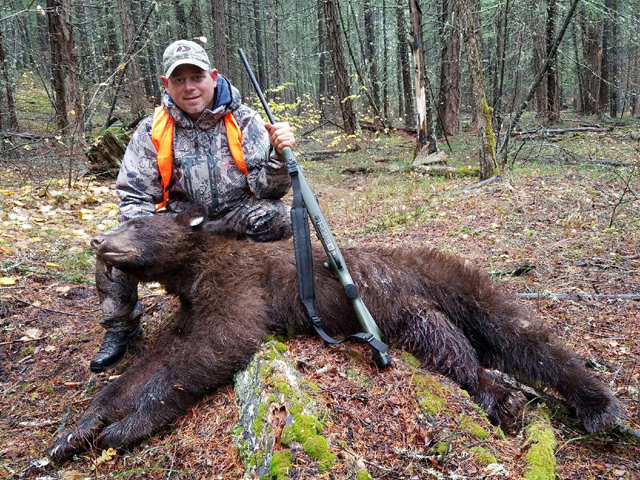 We provide a lunch while you are in the field with your guide. If we are hunting from one of our Elk or Deer camps lodging is provided, otherwise we must stay in motels. The hunter is responsible for his own motel bill which is usually about $50 per night for two people.
In Washington bear tags are available over the counter and you are allowed to take two animals. The tags cost $109 each for a non-resident. There is no need to purchase a second bear tag until after the first one is harvested. You do not need to specify weapon type on.