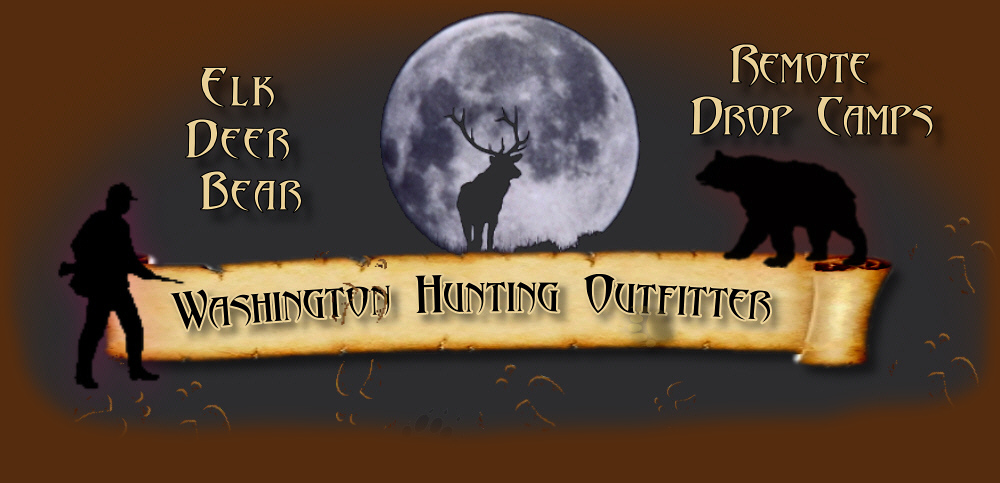 Custom Guided Hunting Trips
Welcome! Washington Hunting Outfitters is a Guide for Customized Hunting Trips in Western Washington for Elk, Roosevelt Elk, Deer, Blacktail Deer, Mule Deer, and Black Bear. This is an outfitter and guide website and a directory of Washington hunting guides, outfitters, hunting, hunting leases, lodging, and other services involved with hunting.


We Specialize in Permit Draw Hunts
Washington Hunting Outfitters offers hunting trips for Rocky Mountain Elk, Blacktail Deer, Bear and more!
We strive to give you a successful and amazing Washington hunting experience. Every aspect of our hunts are done in a professional manner. When booking a hunt we pride ourselves on our guides, camps, horses, cooks, quality of our trophy game, and self management of our outfitting areas.
WASHINGTON PRIVATE LAND TROPHY ROOSEVELT ELK, BLACKTAIL, MULE DEER, COLOR-PHASED BLACK BEAR, TURKEYS
Come join us on our private ranch of almost 10,000 acres for WORLD CLASS Trophy Quality Roosevelt Elk, Blacktail Deer, Black Bear (Color Phase), and a 2 Tom bag limit for Turkeys.
Typically our lands hold any where from 150-400 head of free ranging Roosevelt elk. Our trophy quality for Roosevelt ranges into 350+ inch bulls! This is the best of the best! We also offer some of the best Blacktail hunts in the northwest! average harvest is 125-140 inch's. We have had harvest up to 170 inch's!
We also have a high density of color phase black bear ranging into that 500lbs+ range. At our ranch you will also see Turkey's by the hundreds!
We have fantastic rut archery and rifle mule deer hunts that consist of ground blinds, spot and stalk over bait on private farm ground.
We have maintained 100% opportunity rate and a solid 95% kill rate.
We are the only outfitter in Washington State that offers WORLD CLASS ROOSEVELT ELK AND BLACKTAIL DEER ON PRIVATE GROUND. Come hunt with the best!
Lodging consists of wall tents, rvs, motels and/or lodge, depending on chosen hunt customization.
My twenty two plus years in the guiding outfitting industry backs this up! Most outfitters only last 4-6 years in the business and this is something you should ask when booking a hunt. Its physically impossible to have the knowledge of an outfitting business without having many years
working with clients in the field from the business end of it to the kill ratio and know how to meet the clients needs!
Trophy Roosevelt Elk – Blacktail Deer
Washington Hunting Outfitters for Deer, Elk, Bear, Lion, Cougar hunting guides and outfitters.
Black Bear, Rocky Mt. Elk, Blacktail Deer, Roosevelt Elk and Mule Deer hunts.
We are full time guides year around. As well as fishing guides here on the Columbia River and its tributaries working with clients all year around. With this being said and because of our extensive knowledge and experience either on the river or in the remote wilderness is what separates us from the rest.
Washington Hunting Outfitters is available throughout the State of Washington, but our primary area is in the West-Central part of the State. The Mt. Saint Helens area is always good for Elk and Mt. Rainer, and the Cascades are popular Mule deer and Black tail locations.
Offering: Blacktail Deer, Roosevelt Elk, Black Bear, Rocky Mt. Elk, Mule Deer and Cougar hunts. Our specialty is Trophy Roosevelt Elk and Blacktail Deer. Washington Hunting Outfitters has over 22 years pro hunting experience! We have mastered hunting techniques that have proven effective in hunting the elusive Blacktail Deer and Roosevelt Elk! Fully Guided Hunts, Semi-Guided and also Drop Camp are available. We gladly provide testimonials upon request.
---
Accommodations: Comfortable lodging and delicious meals are part of our guided hunt packages. Accommodations vary depending on the hunting package you would like to purchase.
Christian Witt is your Washington Hunting Outfitters, offering quality hunting trips in Washington, specializing in Western and Central Washington for Elk, Deer, Blacktail Deer, Roosevelt Elk, Black Bear and other game. Hunt locations vary depending on the species being hunted.
Washington Hunting Guides and Outfitters
Each year, hunters take an average of 13,629 white-tailed deer in Washington, representing for approximately 35 percent of the annual deer harvest. Blacktailed deer and mule deer account for the rest.
Ware said WDFW plans to develop similar management plans for mule deer and Blacktailed deer over the coming years. Since 2001, the department has also adopted plans for eight of the state's 10 elk herds.
"For management purposes, it is important to look at both the similarities and differences of these populations throughout their range," Ware said. "These management plans provide a basis for developing consistent policies throughout the state."